da Vinci Surgical System
Using the original da Vinci Surgical System, our robotic surgery team is one of the most experienced in Europe
Patients with kidney, urinary tract and genital diseases are treated in the outpatient clinic. Ultrasound and endoscopic examinations of the urinary tract and the bladder are also performed. The outpatient department also provides follow-up care to patients with cancer of the urinary tract.
The urological outpatient clinic of our hospital indicates patients for urological operations, especially for robotic procedures with the da Vinci Surgical System. Our team of surgeons and nurses have carried out more than 4,500 robot-assisted surgeries since 2008, more than any other similar team in the Czech Republic. Each year since then, the team has also performed the most surgeries using the robotic system in the country, making it one of the most experienced teams in all of Europe.
Surgeries we perform using the da Vinci system
Radical prostatectomy – removal of the prostate gland, most often done to treat localized prostate cancer
Partial nephrectomy – removal of a kidney tumor while preserving as much of the kidney function as possible
Pyeloplasty – reconstruction of the renal pelvis to remove an obstruction occurring where the kidney meets the ureter
Adrenal gland removal
Urethral reconstruction after trauma
Doctors, a team of experts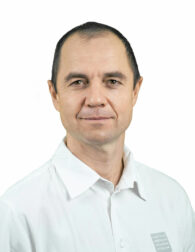 MUDr. Azat Chamzin, CSc.
(+420) 566 512 320